---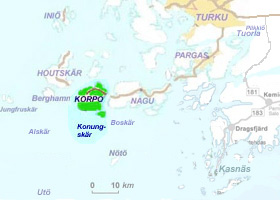 Korppoo - Korpo

situated in the town of Parainen - Pargas 1*).
For centuries Korppoo was situated in the absolute center of the Swedish kingdom. That depended on sea transports.
The central rule was established by the church. The Korppoo church, erected in the 14th and 15th centuries, remind us about this.
The numerous sea routes crossing the Korppoo region made up a vital nerve system for the Swedish kingdom. In the course of time it became necessary to have people running pilotage services and beacons. The economical significance of the sea.
During the period of time when Finland was part of the Russian empire the Korppoo region gained a status of strategic military importance.
1*). The town of Parainen - Pargas is the "largest" archipelago town in the world , when five municipalities (Parainen, Nauvo, Korppoo, Houtskari and Iniö) in Finland became one in 1.1.2009. With more than 10 000 islands and islets.
 Entrepreneurs in the island of Korppoo - Korpo:
Korppoo. Extraordinary menu in the archipelago. Music evenings. We guarantee "probably the Best Meat on Bones". We have specialized in serving baby back ribs.
Contact: Phone +358(0)2 463 1600, email: info(at)ravintolabuffalo(dot)com
---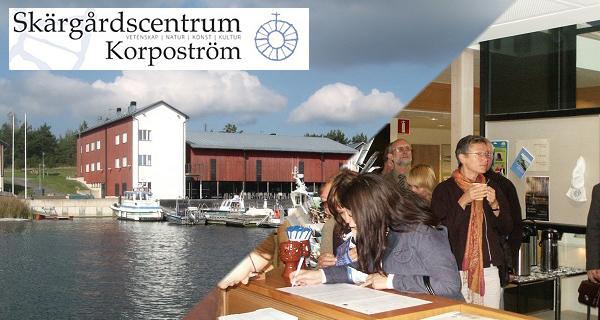 Archipelago Centre Korpoström

Korppoo. Hotel, congress, harbour and restaurant. Korpoström Archipelago Centre is a center of science, art and culture. Address: Korpoströms-vägen 832, 21720 Korpoström. Phone: +358 400 599 319
---
Korppoo. Holiday cottage Luxury seaside house in the Archipelago of Turku - The island of Korppoo. Beautiful surrounding, Accessible by car.
---
Korppoo. Sex modern spacious cottages fully equipped for year round use.Three individual cottages in a bay of south western Korppoo.
---
Korppoo - Wattkast. Comfortable seaside cottages in the Archipelago of Turku - The island of Korppoo. Reachable by car.
---

Faffas Bed & Breakfast

Korppoo. Accommodation. Phone:+358 40 5224306
---

Rumar Strand

Korppoo. Marina, Restaurant, B&B, Address: Rumarintie 694. 21710 Korppoo. COORDINATES:N 60°06,7' - E 21°38,7' . Phone: +358-451133505
---

HJALMAR'S Restaurant - B&B

Korppoo. Restaurant - Accommodation. Phone. +358 (0)2-463 1202
---

Korpogård

Korppoo. Events, accommodation. Phone: +358-40-7213148
---

Hotel Nestor

Korppoo. Phone +358 400 601 280

---