Do you want to increase your sale?
Place your ad on this site relevant to your business.
Advertise at us, we have a low prices campaign now!
If you allready have a free ad here >> We´ll offer: larger banner picture, extra text space & clickable link to your site.
Send email to us : This email address is being protected from spambots. You need JavaScript enabled to view it.
or call us:  +358(0)50 402 2297
PRISLISTA - Annons 1 år  i ÅBO SKÄRGÅRD:
(Åbo city annonser enligt separat prislista)
Pro 1 (STOR annons),
- annonskostnad för din annons i en av våra hemsidor = 70€ /år ,
- om du vill ha annonsen i två av våra hemsidor = 90€.
- annonsera i alla tre hemsidor (Sve, Fin, Eng) = totalt 110€,
> moms tillkommer på alla våra priser
Pro 2 (liten annons), annonskostnaden är hälften av Pro 1 = halva priset av Pro 1
Annons-exempel i skärgården (Nagu):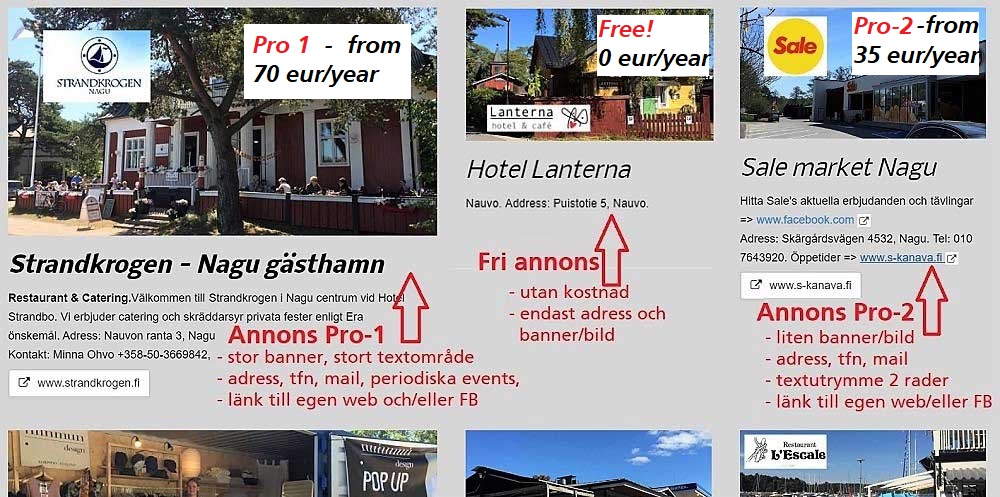 >> Se publicerade annonser,  t.ex  i => skärgården - Nagu och i => Åbo