Pargas - Parainen | Lunch & Dining Restaurants, Shopping, Hotels, Accommodation, B&B | Harbour
Details
The Island of Parainen
situated in the town of Parainen - Pargas 1*). Limestone has been mined here continuously since the 1300's.  Get acquainted with the district museum, the industrial museum, or the narrow alleways in Gamla Malmen (the old city).
Spend a quiet moment in the sturdy grey stone church. There are round the year services for meetings and holidays.  Coffee shops with an atmosphere, and restaurants guarantee a taste experience.
One guest boat harbour is situated right in the middle of the City. Make a test of Genuine Island Ginger Biscuits. The "Rowlit" music festival and the Pargas-Parainen organ days present international performers.
1*) Parainen island in the town of Parainen - Pargas. Parainen is the "largest" archipelago town in the world , when five municipalities (Parainen, Nauvo, Korppoo, Houtskari and Iniö) in Finland became one in 1.1.2009. With more than 10 000 islands and islets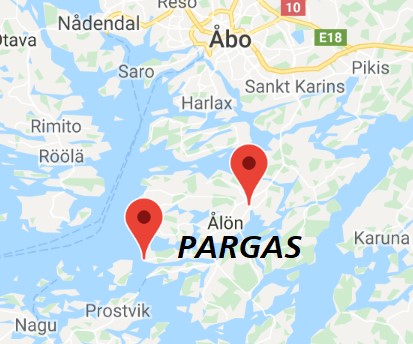 Restaurants, Cafes - Accommodation, Hotels, B & B, Shopping - Department Stores - Sports - Training - Health Care - Harbour - Summer Market, etc