Island of Houtskari - Pargas - Hotels - Restaurants - B&B - Shopping - Stores -Harbour
Details

Super User
The Archipelago Trail:
Hotskari - Houtskär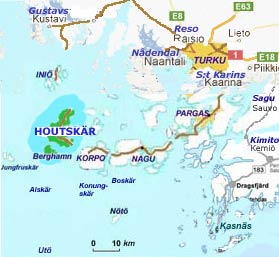 *) The town of Parainen - Pargas is the "largest" archipelago town in the world , when five municipalities (Parainen, Nauvo, Korppoo, Houtskari and Iniö) in Finland became one in 1.1.2009.
Island of Houtskari - Houtskär in Southwest Finland 
Houtskär - is situated in the town of Parainen - Pargas *).
Houtskari is a combination of forested islands and barren outer skerries. The Jungfruskär group of islands is one of the most beautiful and mysterious in the Archipelago National Park. Alternatively you can enjoy things cultural on Houtskär, visit the district museum and the boat museum. Or you can relax and take it easy and breathe the pure island air.
Houtskari offers a wide range of tourist services as restaurants, cottage villages, fishing trips, boat trips, and cultural events. The Näsby guest harbour is centrally located. Another guest harbour will be found on Korsnabb next to the restaurant boat.
Houtskari | Restaurants - Eating out - Hotels - Accommodation 
Eat & stay - Restaurants, accommodation, hotels, B & B, shopping - Houtskär harbour - summer market, and more...