The Extensive National Park - Finland Archipelago Sea

Vistit the National Park in the Archipelago Sea
A stay in Turku or in the archipelago islands will be a perfect location for a further visit in the Archipelago area.
The archipelago is known as the "Archipelago of Turku".
A trip by to the archipelago in the typical yellow ferries makes the journey an attraction in itself. Traveling by car, public transports, ferry, water taxi, kayak or bike - find out about the best way to travel between and on the islands in the archipelago.  The Turku Archipelago can be reached by inter-island ferries and many islands are even accessible by bicycle,
A day trip to the archipelago can be a glorious experience, but a one- two-nights stay - or one week - will make you want even more. Find your cabin, cottage and accommodation here.
The Extensive National Park in the Archipelago Sea
South of Turku and the islands Pargas, Nagu, Korpo and Houtskär begin the extensive national park area.
Flora and fauna in the park is both common and unique. Beautiful wooded meadows, which in particular is from Boskär in the west and on Yxskär in the east, as well as the terminal moraine and ground rocks formed during the Ice Age, is a typical example of the archipelago landscape.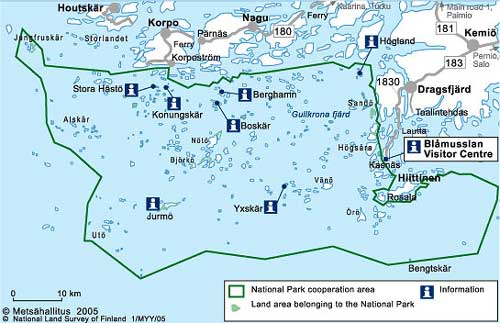 The map published with the permission of National Land Survey of Finland 2007
Archipelago National Park

There are limited possibilities to reach the National Park by regular vessels – e.g. to the island of Jungfruskär or to some other of the thousands of islands. We cooperate however with taxi-boats operators in the area. So we are able to arrange for you a comfortable and unique experience, according to your timetable and wishes.
The archipelago accommodation is perfectly located for nature tours to the Archipelago National park area along with a large stretch of the coastline. The archipelago is known as the "Archipelago of Turku",
Excursions
Excursion to the Unesco biosphere area - the island of Jungfruskär in the National Park. Along the 3-km-long nature trail in the island of Jungfruskär you will see the oldest traditional landscape area of the National Park. There is a project in Jungfruskär focusing on development of sustainable nature tourism.
Metsähallitus excursion map
Read more about:
- the Southwestern Archipelago National Park >>> nationalparks.fi
Welcome!