The Guest House of Backaro - This article is not longer available.
Please find other cottages/accommodation here: www.finlandseaside.com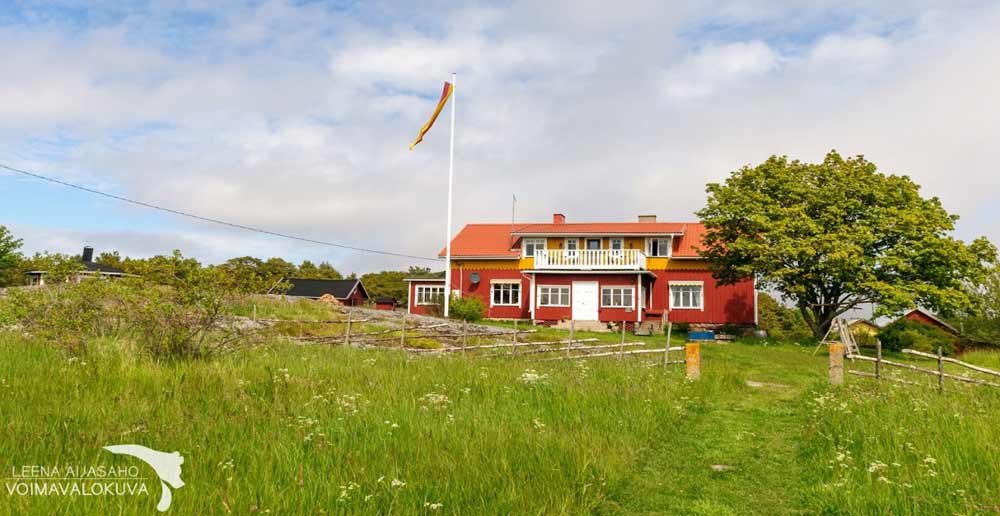 Welcome to Backaro, a small, cosy guest house located on the island of Nötö within the Archipelago National Park in south-western Finland. We have built and renovated Backa farm's old house to a comfortable guest house with 9 nice and cosy bedrooms upstairs. On the entrance floor, we have an old fashioned "living room" with board games and a cozy fireplace for our guests to socialize and relax in.
On the veranda we serve breakfast. Lunch and other meals can be arranged by agreement. We have preserved the house's exterior, surroundings and green area.
The comforts include a bathroom with shower. A wood heated sauna in traditional style is also found at the guesthouse, and we would be more than happy to heat it for you! Indoors we have an electrical dry toilet and of course there is the traditional eco-toilet (dry toilet) outdoors. During the summer months, there is a store for provisions 300 meters from the guest house. The store also provides a washing machine as well as similar comforts.
Welcome to the island of Nötö in the archipelago of Turku!
The Island's Nature and Culture Trail
Year 2016 both a Nature Trail and a Culture Trail was created on Nötö. With the help of a mobile map, navigating along the trail is very easy. Using the map, you can familiarize yourself with the island's various services, cultural history (farms, prehistoric sights, etc.), and natural attractions. The map is powered by Google Maps, and can be found here.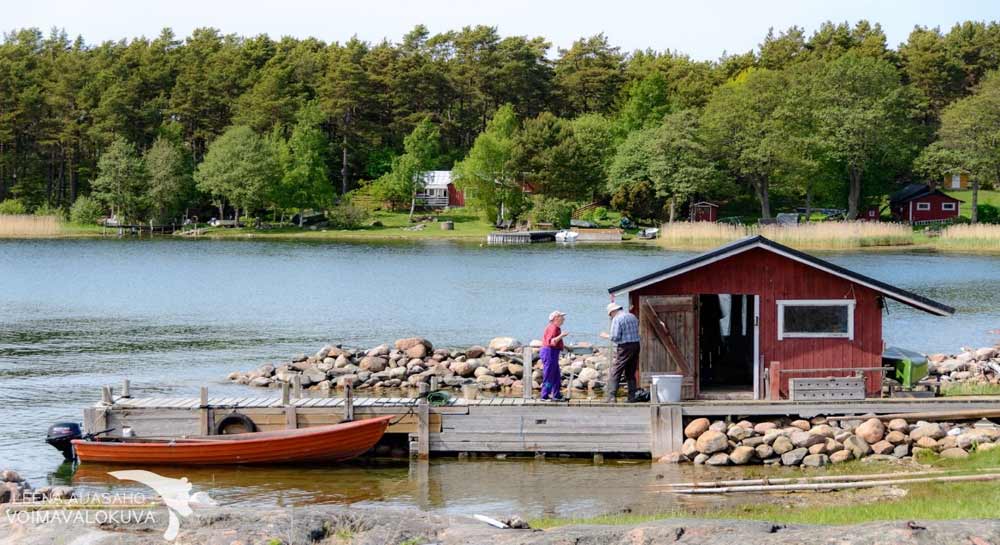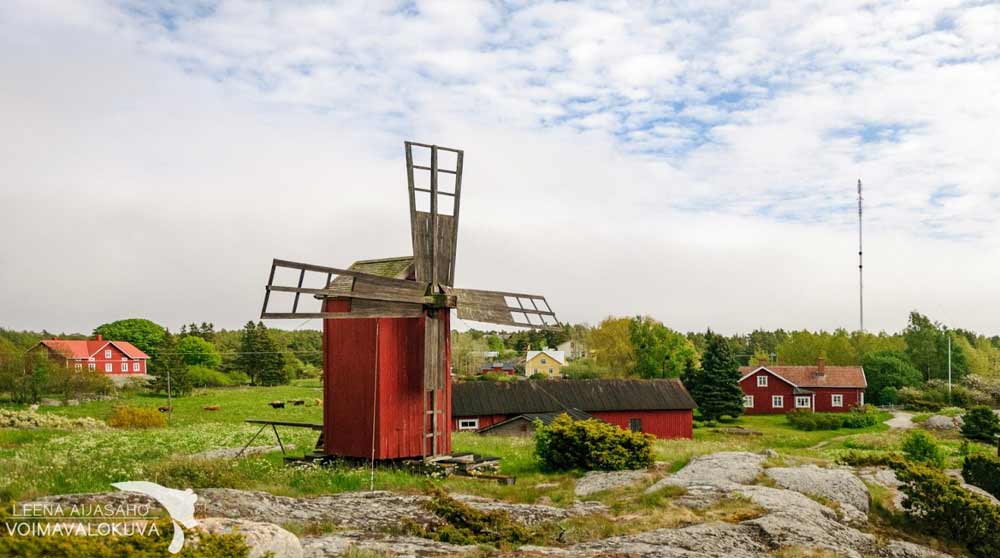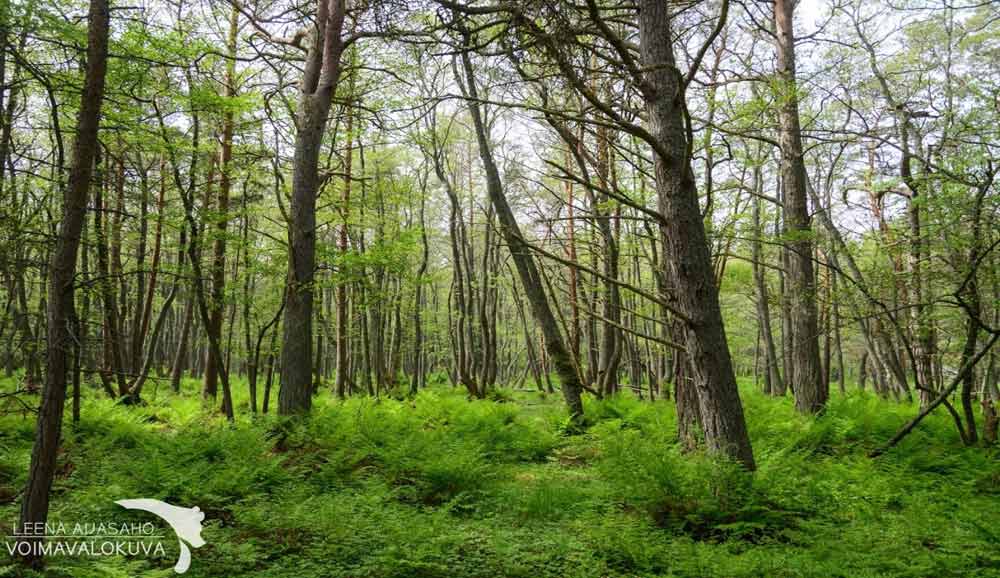 Guest House and service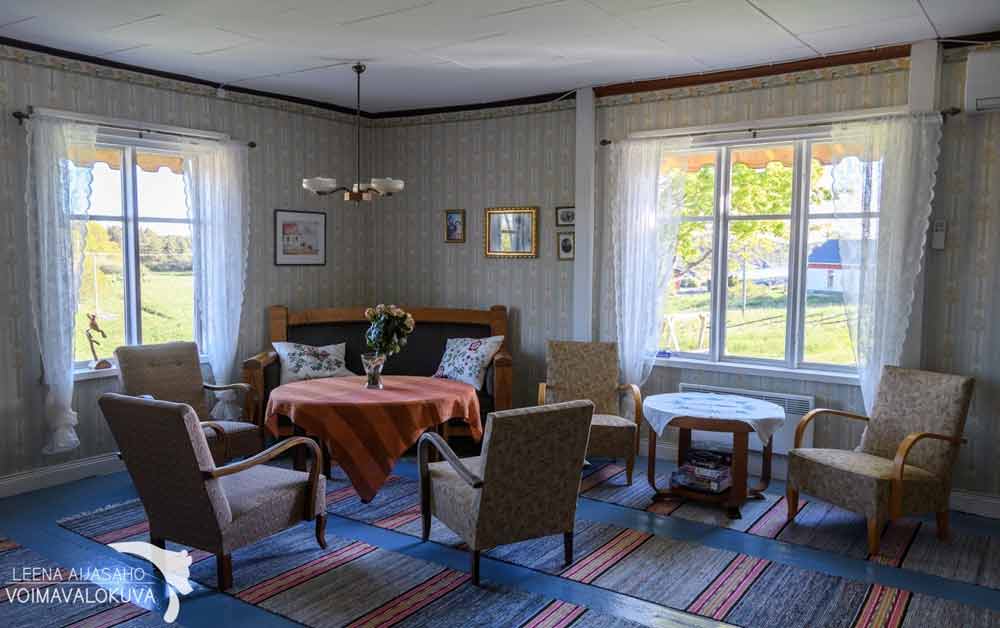 The guest house's upper floor has 9 comfortable rooms with a total space for 16 people.
On the entrance floor, we have an "old fashioned" living room for our guests to feel at home in.
The porch summer veranda serve breakfast. A sturdy breakfast is included in the room rate (bed and breakfast).
Meals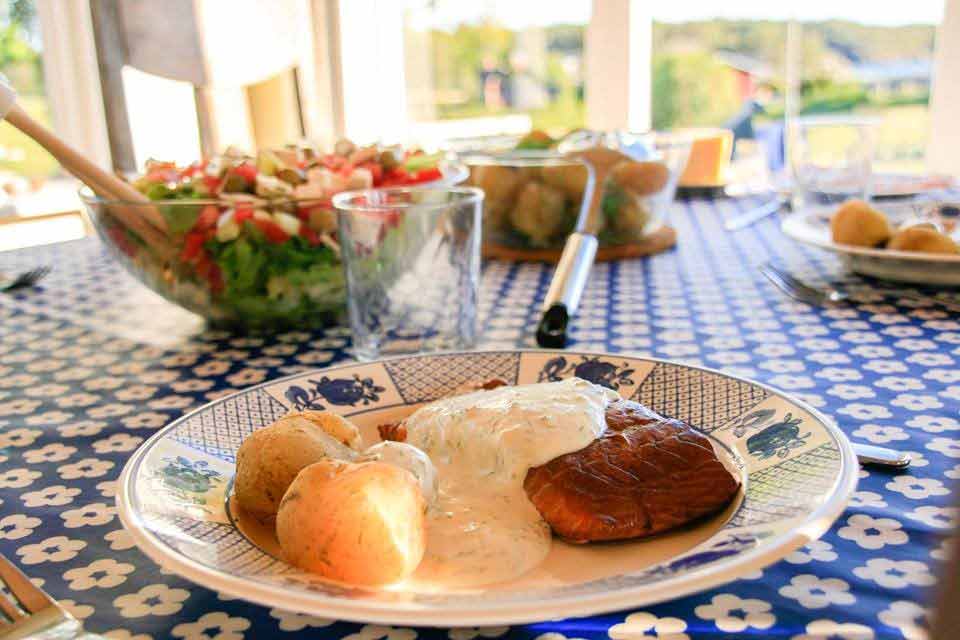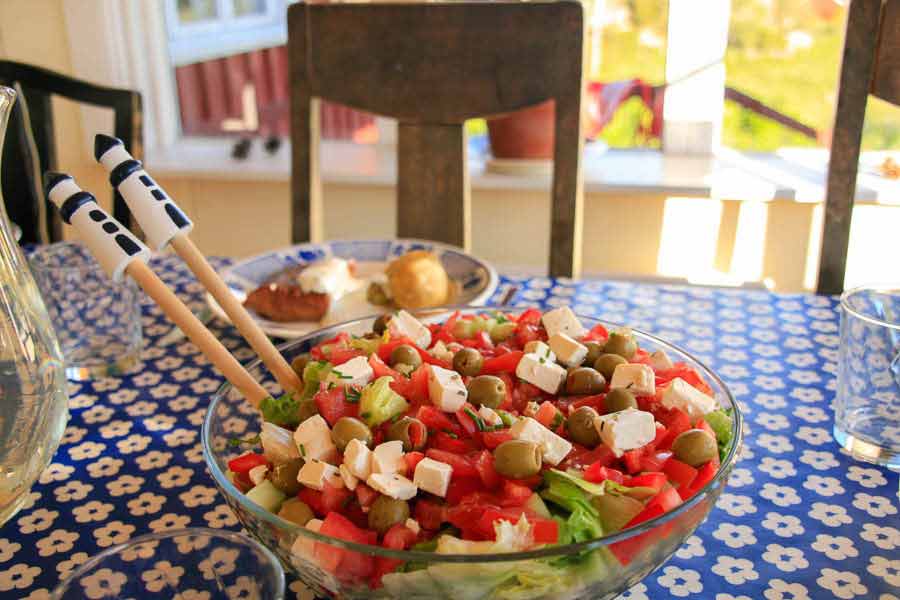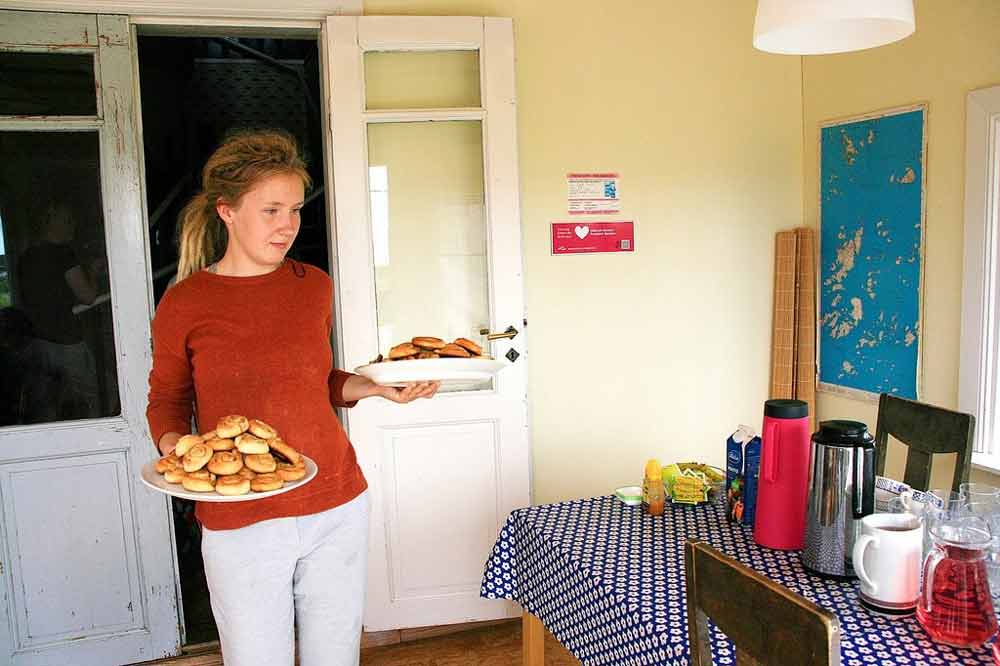 Breakfast will be served on the veranda
Other meals:
For groups
According to the agreement.
Individual guests
Individual guests are given the opportunity to cook their own meals in the Grill House. Includes hotplate, grill, lighter fluid, utensils, plates and pots. We will do the dishes after you. Food to grill can be bought at the convenience store (Nötöboden) about 200 meters from the house.
Price: 3€ base price + 2€/person.
The Grill house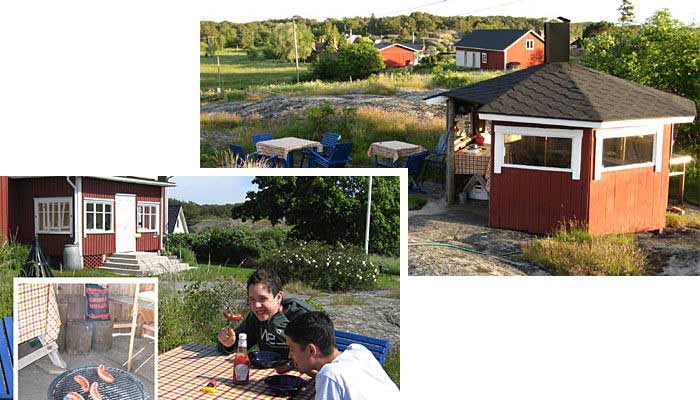 Sauna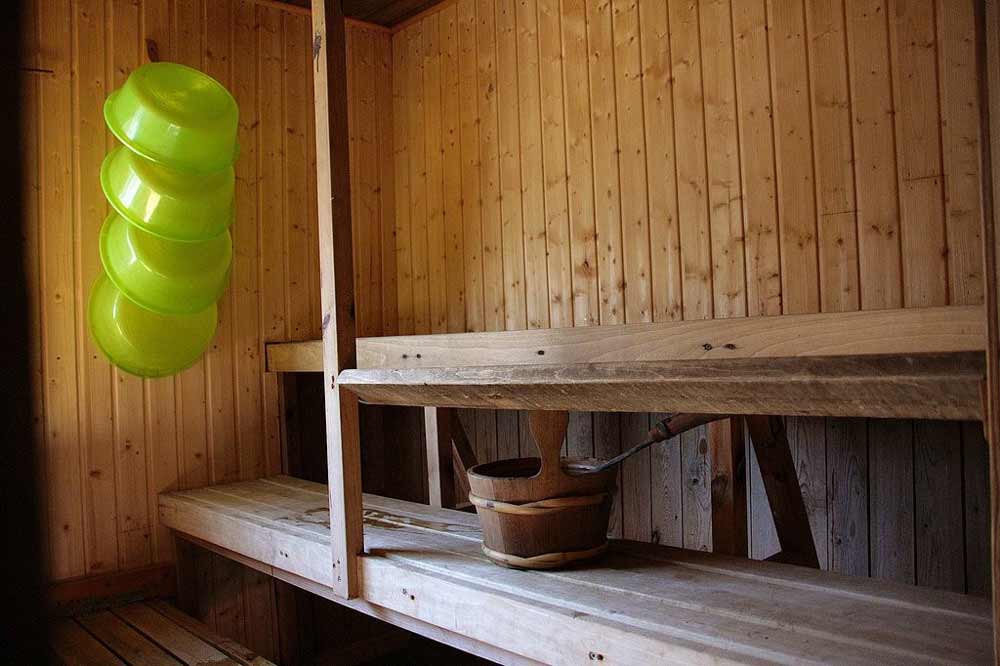 Enjoy the genuine archipelagic feeling of a traditional Finnish wood heated sauna! 15€ for one hour, 25€ for two hours.
How do I get there?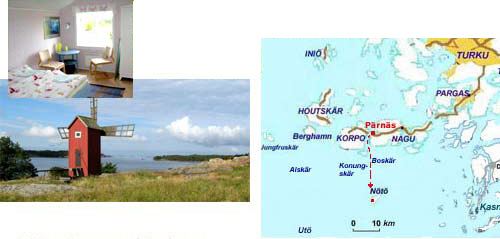 If you come by car, you can take E 18 from Helsinki (or from Turku) to Kaarina (a suburb 10 km east of Turku). Drive from Kaarina (road no:180) trough the islands of Pargas to the island of Nagu/Nauvo. The trip to Turku archipelago is an attraction. If you travel by car, bus or ferry - you will find the best way to travel between- and to islands in the archipelago of Turku. Modern bridges, spacious ferries and splendid vessels link the islands together. There are also taxibåts operators.
Road directions:
Once acrossthe island of Pargas/Parainen you will need to coatch the( free) yellow ferry to the island Nagu/Nauvo. Pärnäs is situated at the western end of Nagu. You should allow 90 minutes for the journey from Kaarina to Pärnäs.
Once in Pärnäs, park your car in the designated area adjacent to the harbour and take the ferry m/s Eivor, bound for Utö, wich visits Nötö en route. Ferry timetables are shown below and the jorney to Nötö takes about 90 minutes. Note that the ferriers do not run both ways every day.
You may also make the sea journey by taxi-boat, which must be pre-ordered. From Turku (bus station, platform 3) or Helsinki, Pärnäs may be reached by the Archipelago bus towards Korpo. Once in Nötö, the Guest House hostess will meet you at the harbour and help you with your luggage. The Guest House is about 200 meters from the island's harbour
Pricelist - Booking - Info
Send email to us for additional info - or make a phone call!
email:  This email address is being protected from spambots. You need JavaScript enabled to view it.  
Phone:  +358(0)50 4022297
Destination Finland Seaside Kb
Welcome!