Municipality of Naantali
Details
---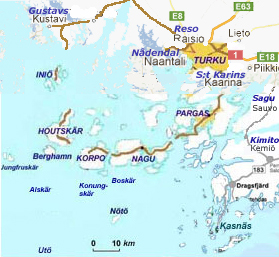 Naantali - Nådendals municipality
Naantali is considered to have been founded on 23rd of August in 1443, when the King Christopher granted the charter to allow for the building of the convent at Ailostenniemi.

When the convent operations ceased at the end of the 1500s, it crippled the town to the point where Naantali was not even listed as a town in any documents from 1540. At the beginning of the 1700s, the water from Viluluoto Spring was discovered to be beneficial in alleviating the symptoms of many illnesses. This health spring set the foundation for the development of spa activities in Naantali.

The Moomin World (Finnish: Muumimaailma, Swedish: Muminvärlden) is the Moomin Theme Park especially for children, based on the Moomin books by Tove Jansson. Moomin World is on the island of Kailo beside the old town of Naantali. There are many activities and fantasy paths for children there. Moomin World is open daily from mid-June to mid-August
---
Entrepreneurs of Naantali:
---
---
Naantali.
Väski Adventure Island in Naantali. Phone +358-2-511 1111
www.vaski.fi
---

Naantali Camping

Naantali
. Naantali Camping. Accommodation, cottages. Phone: +358-2-4350855
---

Tammiston Tila

Naantali. Tammiston Tila Accommodation, cottages. Phone: +358-44-5104293

---